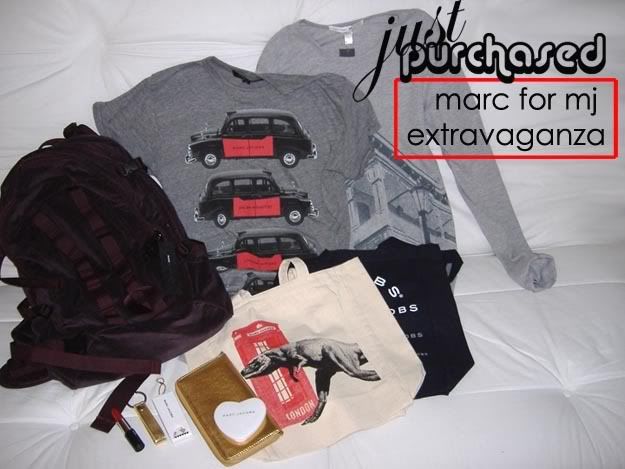 Buuuhhhh ugggauuuuhhh dddeejefimmm sdlkfjjfjjeeeeeekkj llsiejjfff sliuuuee clkjjs aaaaaaa gggooooogggguuuuuhhhhh aaaaaakeeeee iffftteeeeeee mmaaaarrrrrccc jaaaacccccooobbbbbbbb maarrrryryyy meeeee? duh*
*Translated: Apologies for not being able to speak, but headed over to the new MJ store on Fillmore and came home with much more than I thought I was going to. Marc Jacobs? Why you gotta be so amazing?
Purchased:
$60 - A BACKPACK? It's a lovely plush plum cordoroy and actually really really cute.
$20 - London taxi t-shirt
$25 - Savannah thermal
$1.50 - Lipstick pen
$5 - Gold leather keyloop
$1.85 - Bandaid holder
$18 - Gold wallet
$5 - Heart compact
$10 - London tote
$12 - MJ tote